ERAKI Working Group
European Renal Acute Kidney Injury Working Group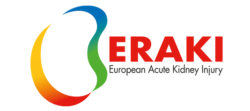 About us
Acute Kidney Injury (AKI) is an often neglected but crucial element of clinical nephrology. The novel Working Group is intended to promote activities in the field of AKI in Europe and to bridge the gaps currently faced by European nephrology versus other regions and specialities by pursuing the following goals:
Generate awareness about the importance of AKI
Promote the involvement of European nephrology in AKI
Arouse the interest of young nephrologists in AKI
Promote collaborative research and educational activities on AKI
Join this working group
Being an ordinary member of the Diabesity Working Group means being part of a network which facilitates exchanges of ideas on basic science research and new treatment protocols.

Becoming an ordinary member of the Diabesity Working Group is free of charge and easy to do within your personal My ERA. Ordinary members must be ERA members and persons with a proven interest in the research area covered by the WG.

By joining the Diabesity Working Group you will receive periodic newsletters with updates on the Working Group initiatives: e-seminars, CMEs, research projects and networking opportunities.
ERAKI Board
The ERAKI Board provides strategic direction to the working group. Board members enhance the exchange of expertise and international cooperation.
Marlies Ostermann
Chair
United Kingdom
Vincenzo Cantaluppi
Vice-Chair
Italy
Stanislas Faguer, France
Joana Gameiro, Portugal
José Antonio Lopes, Portugal
Jolanta Malyszko, Poland
Ana Belen Sanz, Spain
Turgay Saritas, Germany
Sophie de Seigneux, Switzerland
Nicholas Selby, United Kingdom