ERAKI Working Group
European Renal Acute Kidney Injury Working Group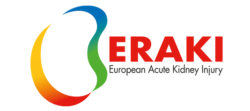 About us
Acute Kidney Injury (AKI) is an often neglected but crucial element of clinical nephrology. The novel Working Group is intended to promote activities in the field of AKI in Europe and to bridge the gaps currently faced by European nephrology versus other regions and specialities by pursuing the following goals:
Generate awareness about the importance of AKI
Promote the involvement of European nephrology in AKI
Arouse the interest of young nephrologists in AKI
Promote collaborative research and educational activities on AKI
Become a Board Member
An open call for 10 Board Members is open from February 20, 2023, to April 20, 2023.
In order to be eligible as a Board Member of the novel ERAKI Working Group, the applicant must:
be an ERA Full Member
have a proven interest and a track record of relevant scientific expertise in AKI research area, demonstrated by relevant publications on AKI-related topics
complete the relevant application form
submit here his/her application and CV (including a list of relevant publications on AKI-related topics) together with a motivational letter
fill in/update the Disclosure of Interest form in the relevant section in My ERA.