EuDial Working Group
European Dialysis Working Group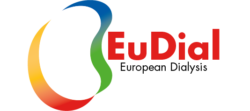 About us
The EuDial Working Group is aimed at encouraging research, communicating knowledge, teaching and contributing to education in the field of haemodialysis. The acronym EuDial, standing for European Dialysis Working Group, has been chosen to best summarize its activity and mission: to improve outcomes of chronic kidney disease patients by enhancing the quality of dialysis therapies in their broader sense and facilitating collaborative research in this field.
Given the increasing scientific interest in convective therapies (hemodiafiltration and hemofiltration), the working group has decided to focus on convective renal replacement therapies as the first aim. The rationale of this first mission is supported by several facts that include increasing interest in convective therapies translating into the rapid growth of patients treated by modern versions of these therapies and several reports suggesting an improvement in CKD patient outcomes.
Join this working group
Being an ordinary member of the EuDial Working Group means being part of a network which facilitates exchanges of ideas on basic science research and new treatment protocols.

Becoming an ordinary member of the EuDial Working Group is free of charge and easy to do within your personal My ERA. Ordinary members must be ERA members and persons with a proven interest in the research area covered by the WG.

By joining the EuDial Working Group you will receive periodic newsletters with updates on the Working Group initiatives: e-seminars, CMEs, research projects and networking opportunities.

EuDial Board
The EuDial Board provides strategic direction to the working group. Board members enhance the exchange of expertise and international cooperation.
Carlo Basile
Chair
Italy
Sandip Mitra
Vice-Chair
United Kingdom
Christian Combe – Chair-Elect, France
Gaetano Alfano, Italy
Adrian Covic, Romania
Casper Franssen, Belgium
Vassilios Liakopoulos, Greece
Valerie Luyckx, Switzerland
Bjorn Meijers, The Netherlands
Rukshana Shroff, United Kingdom
Events organised by EuDial
EuDial CME Course 2018 "Haemodialysis Update 2018: from basics to advances in the treatment in CKD"
October 3, 2018, Rimini, Italy