ERBP – European Renal Best Practice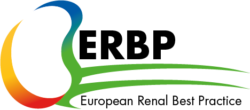 About us
The primary mission of ERBP is to improve the outcome of patients with kidney disease in a sustainable way by enhancing the availability of knowledge on the management of these patients in a format that stimulates its use in clinical practice in Europe.
To accomplish this mission ERBP:
Disseminates, endorses and stimulates implementation and translation of guidance, through official publications, in nephrology following the collaboration with guideline production bodies.
Produces statements (consensus or controversy statements) related to best practice in collaboration with other ERA bodies and/or guidelines in the field produced by other bodies.
ERBP Advisory Board
Pantelis Sarafidis
Chair
Greece
Sevcan Bakkaloglu, Türkiye
Davide Bolignano, Italy
Maria Haller, Austria
Mehmet Kanbay, Türkiye
Ionut Nistor, Romania
Edita Noruisiene, Lithuania
Alberto Ortiz, Spain
Elke Schaeffner, Germany
Sokratis Stoumpos, United Kingdom