Bodies:
YNP - Young Nephrologists' Platform
Opening
Orsolya Cseprekál, Hungary
Motoko Yanagita, Japan
Messages to young nephrology scientists from JSN and ERA
Ivan Rychlik, Czech Republic
Naoki Kashihara, Japan
Chairs
Miho Murashima, Japan
Amaryllis Van Craenenbroeck, Belgium
Part 1. COVID-19 talks
Tobias Huber, Germany: Mechanisms of kidney damage in COVID-19.
Yuka Sugawara, Japan: How Japanese dialysis facilities responded to the COVID-19 pandemic.
Part 2. Transplant talks
Marcia Kho, The Netherlands: Coping with the threat of COVID-19 in transplant recipients: insight from the RECOVAC consortium.
Masahiko Yazawa, Japan: Current trend of kidney transplantation in Japan.
Closing remarks
Masaomi Nangaku, Japan
Christoph Wanner, Germany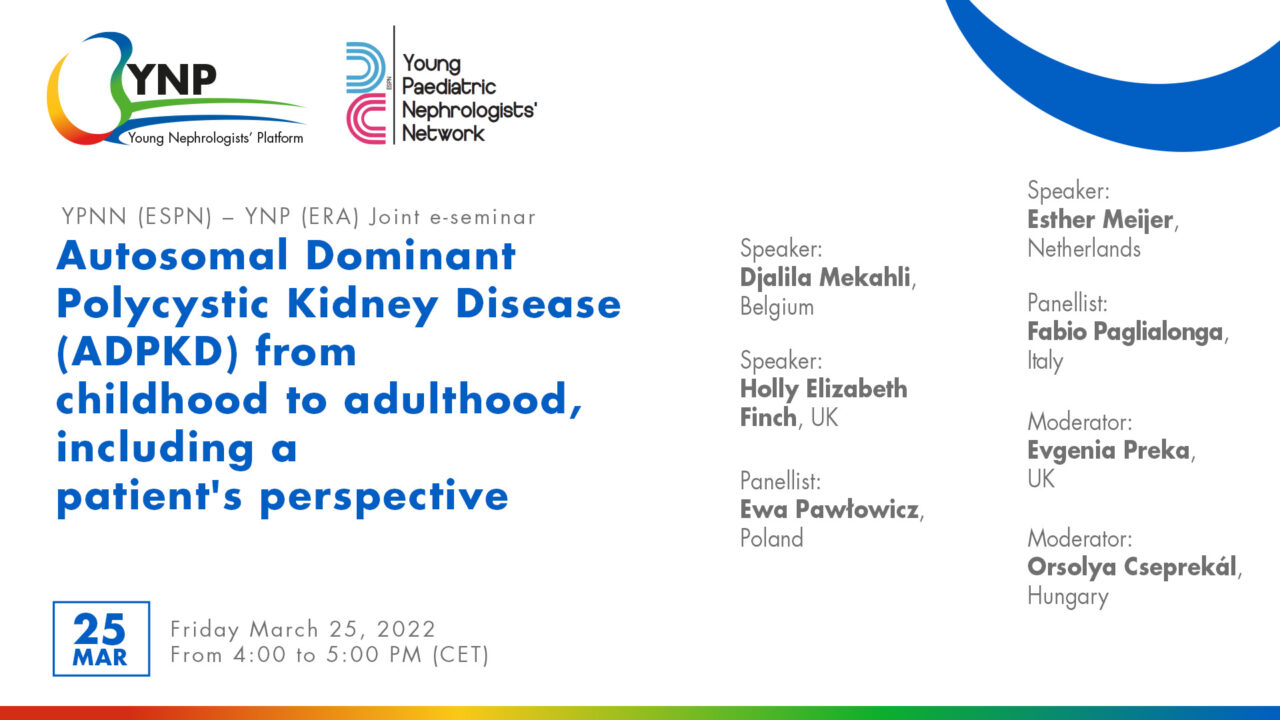 Opening
Evgenia Preka, UK (ESPN-YPNN)
Orsolya Cseprekál, Hungary (YNP)
The paediatric nephrologist's perspectives
Djalila Mekahli, University Hospital Leuven, Belgium
The adult nephrologist's perspective
Esther Meijer, University Medical Center Groningen, Netherlands
The patient's perspectives
Holly Elizabeth Finch, UK
Panellists discussion
Ewa Pawłowicz, Medical University of Lodz Poland (YNP)
Fabio Paglialonga, Ospedale Maggiore Policlinico, Milano, Italy (ESPN-YPNN)
Closing remarks
Evgenia Preka, UK (ESPN-YPNN)
Orsolya Cseprekál, Hungary (YNP)