Beatriz's story
Studying ANCA-vasculitis and developing research skills with the ERA Fellowship
Beatriz Sanchez Alamo
Spain
Former Fellow at the University of Lund in Sweden
Read other stories

Karol Graňák
ERA influences my daily work primarily through education. By watching regular webinars with experienced experts in the field and accessing the best nephrology journals, I gain very valuable knowledge in nephrology. I plan to apply for a clinical fellowship abroad, which ERA also offers.

Hanne Skou Jørgensen
The ERA fellowship allowed me to collaborate with one of the foremost experts in my field, which was an amazing learning experience, in addition to being very productive, resulting in a number of joint publications.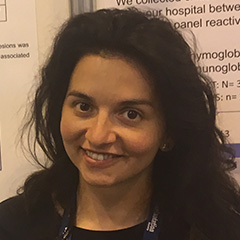 Evgenia Preka
The ERA fellowship program in paediatric nephrology and clinical epidemiology has provided me with the specialized training and experience necessary to advance my career in this field.
Share your story, inspire others, and celebrate the ERA Community
Let your voice be heard, inspire others, and celebrate the ERA Community by being a part of this exciting project. We look forward to receiving your stories and showcasing the remarkable individuals who make up our association.