List of exhibitors
Here available the exhibitors' list for the 60th ERA Congress
Discover the Associations & Publisher
American Society of Onconephrology (ASON)
American Society of Onconephrology was stablished in 2021 to promote research, clinical activities, and education related to onconephrology. More specifically, the primary objectives of this society is to further the investigation of onconephrology and reach a better understanding of the basic mechanisms involved as follows:
1. By informal group discussion of material that is of cross disciplinary interest as it pertains to care of patients with kidney disease and cancer.
2. By exchange of ideas pertaining to clinical experiences and experimental research
3. By consideration of problems encountered in onco-nephrology research.
4. By the promotion of good fellowship and mutual trust among members of this organization.
5. By fostering education and identifying gaps in knowledge as it pertains to onco-nephrology.
Join us in the beautiful city of Bruges, Belgium, from 27-30 November 2023 for the 16th EuroPD meeting.
This year's programme will expand on the Home Haemodialysis component of the meeting and will have a strong focus on the need to grow Home Dialysis Therapies throughout Europe.  The pre-congress educational courses will include a full day of presentations in French, and the main programme features high quality speakers on topics ranging from basic science and the
findings of the EU funded IMPROVE-PD programme, through qualitative research describing centre culture and modality selection, to life participation and technological innovations. See you in Bruges!
European Kidney Patients Federation (EKPF)
The European Kidney Patients' Federation (EKPF) is a non-profit organization that advocates for kidney patients in Europe.
Representing over 75 million people affected by kidney conditions, the EKPF brings together 27 national kidney patient federations from 26 different countries in Europe. The organization is dedicated to raising awareness of kidney disease at the European level and promoting prevention and early detection.
Through its work, the EKPF aims to improve the well-being, treatment, social security, and living conditions of all kidney patients and their families and carers. The organization also strives to increase cooperation and information exchange with other organizations and institutions involved in kidney diseases, and to encourage organ donation and transplantation.
European Society for Paediatric Nephrologie (ESPN)
G.240
https://www.espn-online.org/
The European Society for Paediatric Nephrology (ESPN) was founded in 1967 with the goal of diffusing knowledge and improving the treatment of children with kidney diseases. ESPN brings together clinical professionals and researchers that operate in the field of Paediatric Nephrology throughout Europe. ESPN has approximately 700 active members. Our Society has multiple activities including the annual congress, collaborative research projects, teaching courses, workshops, webinars, clinical practice guidelines, a three-year curriculum in Paediatric Nephrology, and a EU-certified board examination in Paediatric Nephrology among others. Within the ESPN, six working groups operate providing focused research and educational opportunities.
The ESPN council includes the President, the Assistant President, a Treasurer (executive councilors), and eight other councilors. Ex officio council members and chair positions include the chair of the ESPN/ERA registry, the President of the annual ESPN congress, chairs of standing and special committees or task forces, chairs of the ESPN working groups, and the chair, vice-chair, and elected representative of the Young Paediatric Nephrology Network (YPNN).
ESPN is the official European partner of the International Pediatric Nephrology Association (IPNA) (https://theipna.org) and is closely associated by mutual agreement with the European Renal Association (ERA) (https://www.era-online.org).
ERKNet - The European Rare Kidney Disease Reference Network
ERKNet is the European Reference Network for Rare Kidney Diseases, a consortium of 72 expert pediatric and adult nephrology centers in 24 European countries providing healthcare to more than 70,000 patients with rare disorders of the kidneys. The ERKNet partners offer top quality multidisciplinary healthcare for a wide range of rare kidney disorders. They uniformly apply clinical guidelines and pathways according tolatest medical knowledge and strictly monitor the quality and outcomes of therapy across the Network.
ERKNet offers virtual consultation services to physicians throughout Europe who need advice for challenging cases with a rare kidney disease.
ERKNet is dedicated to improve knowledge about rare kidney diseases among patients and healthcare professionals. We disseminate disease information via this website and by multiple education and training activities.
ERKNet works closely with European patient advocates (ePAGs) and different renal patient communities and organizations.
ERKNet actively supports clinical research to improve diagnosis and risk prediction and advance the development of new therapies for patients with rare kidney disorders.
ICRNM
G.120
https://www.icrnm2024.com/
The 21st Congress of the International Society of Renal Nutrition & Metabolism (ICRNM), will be held from 28th -31st August 2024, at Hyderabad, India.
ISPD - International Society of Peritoneal Dialysis
The International Society for Peritoneal Dialysis works to increase the global uptake, promote quality practice, and achieve optimal outcomes of peritoneal dialysis through enhanced advocacy, research, and education, in order to improve the health and well-being of people living with end-stage kidney disease or suffering from acute kidney injury. Our members are doctors, nurses and kidney health professionals who are PD enthusiasts and work together for advancing PD worldwide.
JSN - Japan Society of Nephrology
G.110
https://jsn.or.jp/en/
The mission of the JSN is to aid in the practice and study of Nephrology. In order to achieve this the JSN conducts a range of activities. These include holding regular meetings as a forum for the diffusion of information, producing regular journals, coordinating clinical research, promoting cooperation with related societies in Japan and internationally, as well as providing recognition to those who have made significant contributions in the field of Nephrology.
Journal of Kidney Care
G.330
https://www.magonlinelibrary.com/journal/jokc
Journal of Kidney Care (JKC) is the essential bi monthly peer-reviewed publication for all members of the multidisciplinary renal team. It covers several clinical areas of renal medicine, such as dialysis, transplantation, diabetes, anaemia, pharmacy and nutrition. JKC's content is aimed at doctors, nurses, healthcare assistants, dietitians, pharmacists, physiotherapists, paediatric specialists, clinical technologists, social workers, vascular access specialists and transplant surgeons and coordinators specialising in kidney care.
Oxford University Press
G.310
https://academic.oup.com/era
Oxford University Press advances knowledge and learning. We are a department of the University of Oxford and share the objective of excellence in research, scholarship, and education by publishing worldwide. Oxford University Press is the publisher of the ERA's official journals, Nephrology Dialysis Transplantation (NDT) and Clinical Kidney Journal (CKJ). NDT and CKJ are leading journals in the field of nephrology research, and CKJ is fully Open Access.
PKD International
G.220
https://pkdinternational.org/
PKD International is the global alliance of patient organisations supporting everyone affected by polycystic kidney disease. Our mission is to improve the lives of an estimated 12.5 million affected by PKD worldwide, and their families and care-givers. We do this by uniting patients, families, scientists, and healthcare professionals committed to ending PKD. PKD International is a non-profit, non-governmental association (NGO) based in Geneva, Switzerland. We will be joined at the Congress by colleagues from AIRP (PKD Italy) and FEDERG (European Federation for Rare/Inherited Kidney Diseases). PKD patient groups, individuals and clinicians, scientists and other healthcare professionals worldwide are invited to join PKD
International. Follow us on Twitter
@pkd_int and https://www.linkedin.com/company/pkd-international
Karger Publishers is a worldwide publisher of scientific and medical content based in Basel, Switzerland. It is independent and family-led in the fourth generation by Chairwoman and Publisher Gabriella Karger. Connecting and advancing health sciences since 1890, Karger has been continuously evolving, keeping pace with the current developments and shifts in research and publishing. The publishing house is dedicated to serving the information needs of the scientific community, clinicians, and patients with publications of high-quality content and services in health sciences. Karger Publishers has 230 employees and is present in 15 countries around the globe.
For more information, please visit: karger.com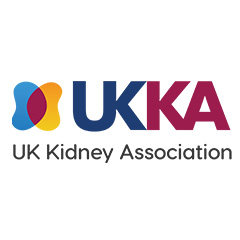 The UK Kidney Association (UKKA) is the leading professional body for the UK kidney community, dedicated to improving the lives of people living with kidney disease by supporting professionals and shaping the delivery of kidney care. We have over 1,600 doctors, scientists and multi-professional team members.
For 73 years, the Renal Association, now the UKKA, has been transforminghow kidney care and research are delivered in the UK and beyond. The work we deliver and fund to support our members and people living with kidney disease is wide-ranging and includes:
• The UK Renal Registry
• British Association for Paediatric Nephrology
• UK Renal Pharmacy Group
• Kidney Quality Improvement Partnership (KQuIP)
• The UK Specialty Renal Trainees
• Paediatric Nephrology Nurses Group
• Rare Renal and the National Registry of Rare Kidney Diseases (RaDaR)
• Renal Social Work Group
• Renal Psychological Therapist Group
The UKKA also hosts UK Kidney Week, the largest UK event for kidney professionals.