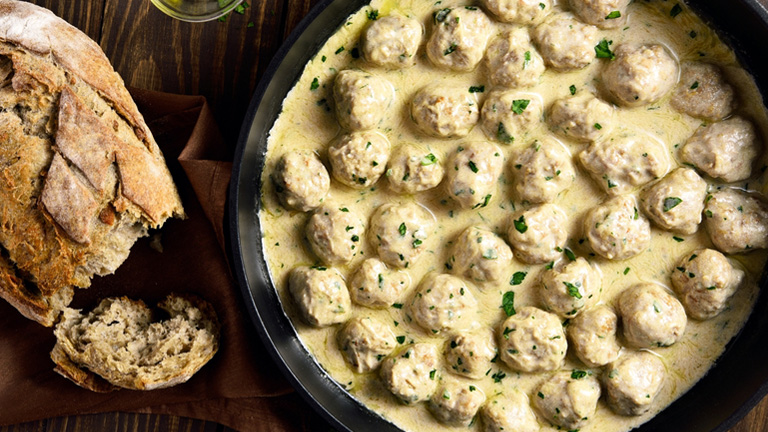 Level: Medium
Preparation time: 10 minutes
Cooking time: 50 minutes
Yields: 6 people
Country: Turkey
Recipe submitted by Siren Sezer on behalf of the Turkish Society of Nephrology
www.nefroloji.org.tr
About this recipe
Meatball liaison is a very balanced meal with carbohydrates and protein. It is frequently prepared in homes as it is very easy to prepare. Children love it! It is also served at weddings in central Anatolia. Rice is substituted with bulghur and served with tomato paste in some regions.
Ingredients
Bread (stale): 2 medium slices (60 grams)
Onions: 2 medium sized (120 grams)
Parsley: 1/4 bunch (15 grams)
Ground meat: 2 4/5 cups (500 grams)
Black pepper: 1/2 dessertspoon (1 gram)
Wheat flour: 3 tablespoons (18 grams)
Water: 4 cups (800 millilitres)
Egg yolk: 1 (30 grams)
Lemon juice: 2 tablespoons (20 grams)
Preparation
Remove the crusts from the bread, wet the crumbs and squeeze hard.

Peel the onions, wash and grate.

Wash the parsley, clean and finely chop.

Mix the ground meat, crumbs, onions, parsley, 1 ½ dessertspoon of salt and black pepper well. Knead for 4-5 minutes.

Roll the meatballs to the size of a walnut, and place them onto a dusted tray.

Cover the meatballs with flour by shaking the tray.

Add water and the rest of the salt to the pan.

Add the meatballs to the boiling mixture, and cook for 45-50 minutes on low heat.

Scramble the egg with the lemon juice in a separate cup, and add several tablespoons of the boiling meatball mixture to warm up.

Stir the mixture well while adding the egg yolk and lemon juice, and scramble slowly.

Boil it once and turn the oven off.